How ScribeConnect's Scribe Management & Education Platform Helped Integritas Improve Their Medical Scribe Program
In this case study, we showcase how Integritas managed a successful medical scribe service in-house across multiple healthcare systems and locations with ScribeConnect
Integritas is a professional medical staffing group based in Carbondale, Illinois. Founded in 2016 by Dr. Dan Doolittle, its mission is to provide their physician and hospital clients with unwavering support and commitment. Since starting a successful trial with the ScribeConnect Scribe Management Platform, Integritas has continued using the SaaS-based software platform as part of their daily medical scribe management protocol.
The Challenge at Hand
While hiring, training, and retaining quality medical scribes can be a difficult task, Dr. Doolittle has a core value of achieving a healthy work-life balance for the physicians under contract in his group. Therefore documentation assistance is an important part of keeping his care team healthy and joyful. When Alex Morris stepped into the role of Clinical Documentation and Scribe Manager for Integritas, there was already an in-house scribe program in place.
What stood out as a challenge for Alex, is the amount of time and resources required to supervise and manage existing scribes on staff, train and onboard new medical scribes, and the work needed to ensure a high level of documentation performance and high provider satisfaction.
ScribeConnect's Medical Scribe Training and Management Platform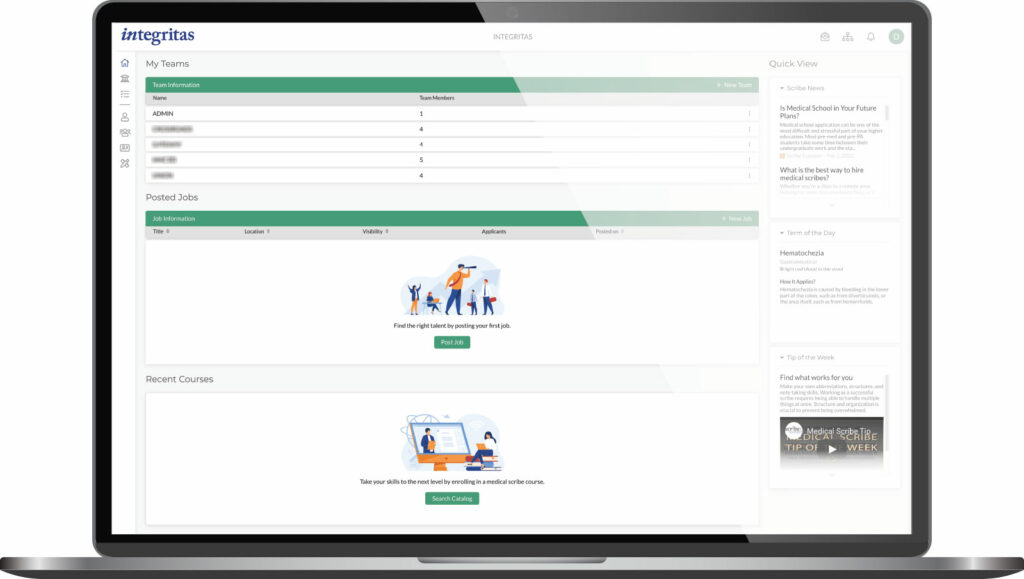 Alex uses ScribeConnect's platform to effectively to hire and manage her in-house medical scribe team. These are the tools on our platform that are part of her daily use:
Online Medical Scribe Training – Hybrid online training and floor training that can run concurrently.
Scribe Management Tool – Assign tasks, training, and evaluate medical scribe performance.
Teams – Assigning medical scribes to different locations using teams function.
Training Center – Centralized, cloud-based training catalog, including specialty training and ongoing education.
Forms – Messaging template and customizable evaluation forms.
Custom Roles – Customizing permission and roles.
ScribeConnect platform allows Integritas to privately brand the interface of the platform to display its logo, company colors, and labels. This allow employees to view the platform as an integrated tool that is consistent with their daily activities.
Results at a Glance
Assuming an average independent doctor's network or physician management group working with multiple sites, and up to 10 medical scribes, Alex estimates that on any given week the ScribeConnect Scribe Management Platform saves her anywhere between 6-8 hours in management duties. In addition, for each new medical scribe onboarded, she can assign the Comprehensive Medical Scribe Training Courses to be completed concurrently with in-person training, saving her up to 20 hours of individual training with each scribe.
Typically, medical scribes candidates are pre-med and pre-PA students looking to apply to a graduate program, so most medical scribes leave and return to their education after 6-12 months on the job. In the course of a year, Alex may be onboarding up to, and potentially more than 10 scribes per year based on physician needs and new clients/contracts for Integritas.
With an average of 7 hours saved on management tasks using the platform, and up to 20 hours saved per scribe onboarding process, we estimate up to 550 hours and more saved per year using ScribeConnect.
7 hours x 52 weeks = 364 hours
Up to 10 scribes onboarded x 20 hours each = 200 hours
Equals 550+ hours saved total per year.
According to Alex:
"I have found the management aspect to be most useful. We did not previously have any set way established to keep track of training progress or even ongoing tracking of performance. Previously, the majority of our training was all hands-on and I have discovered that the online courses have been a huge asset for new hires to complete prior to their floor training."
For more detail, please download the case study in PDF.