By Aubrey Martinez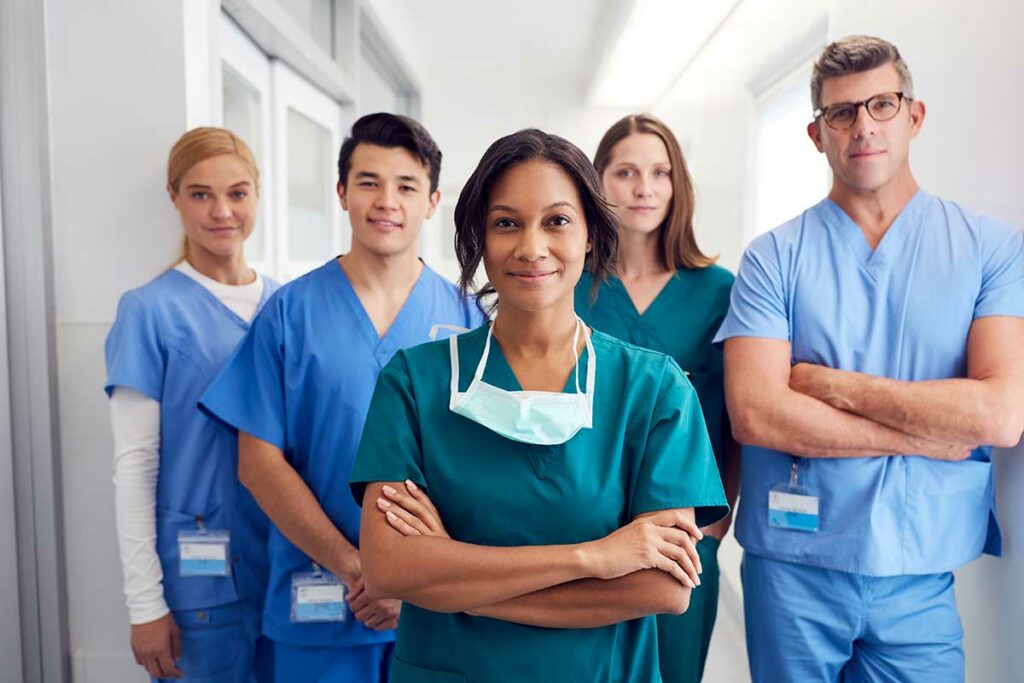 What Does a Traditional Medical School Applicant Look Like?
Currently a career in healthcare starts with the standard procedure for pre-health students is to prepare for and apply to healthcare education institutions during college and matriculate into such programs directly after graduation. This means that pre-health students must complete the science-heavy prerequisite courses for medical school or physician assistant school, study for entrance examinations, and partake in a variety of extracurriculars while still adhering to the graduation requirements for their given college major.
In order to squeeze all of this into the 4-year college experience, the Princeton Review, a reputable admission services company, recommends the following timeline for medical school admissions:
Freshmen year students should start taking the medical school prerequisite courses, join pre-medical clubs / healthcare organizations, get involved in volunteer programs, and meet with pre-health advisors.
Sophomore year students should finish up the medical school prerequisite courses and begin taking the introductory courses for their undergraduate major, continue with healthcare and service extracurriculars, form relationships with their professors and research medical schools.
Junior year students should start taking their upper division major courses, secure faculty letters of recommendation, write their personal statement, as well as study for and take the MCAT.
By senior year, pre-medical students should submit their AMCAS application, draft their secondary application essays, prepare for interviews, and, of course, complete their college graduation requirements.2
This traditional schedule intends for students to matriculate into medical school directly after graduating from college, around the age of 22. In more recent years, however, healthcare education institutions have seen a divergence from this timetable. According to the Association of American Medical Colleges (AAMC) applicant data from 2014-2018, the average age of students entering U.S. medical schools has increased to 24, signifying a growth in non-traditional applicants1.
Why Are More Applicants Taking A Non-Traditional Path?
Now, more than ever, healthcare education institutions are seeing applicants who chose not to matriculate directly after college graduation. In the AAMC 2018 Matriculating Student Questionnaire, 62.6% of new matriculants reported taking at least one year off between graduating college and entering medical school.4 There are a multitude of reasons as to why an applicant may choose to delay the admissions process; to take a break from school and avoid burnout, deal with intrapersonal / family tribulations, or take additional measures to improve their application. Some of the more common types of non-traditional applicants are post-baccalaureate students, non-science undergraduate disciplines and career changers.
It is no surprise that science-heavy prerequisite courses required for admission to healthcare education institutions are challenging. Coupled with the increasing competitiveness for admission to medical school or physician assistant school, many pre-health students do not feel confident applying with their undergraduate GPA. Statistics published by the AAMC show that the number of applicants to U.S. medical schools has increased nearly 25% over the past 10 years.6
Furthermore, Medical School Admission Requirements (MSAR) data from the 2018-2019 cycle compared to the previous year reveal higher average MCAT scores and GPAs for most medical schools.7 To contend with these rising numbers, many students have opted for post-baccalaureate programs. Post-baccalaureate programs allow students who have already earned a bachelor's degree to take additional courses to improve their overall GPA and/or further their education in a particular field of study.
Post-baccalaureate programs are also designed for students who did not satisfy the science course requirements during their time as an undergraduate. Many medical school or physician assistant school applicants pursued an undergraduate discipline outside of the sciences, and were unable to take the necessary prerequisite courses required for admission. It is not uncommon for students to choose an undergraduate major in the humanities, ultimately earning bachelor's degrees in English, art, history, economics, etc., prior to entering healthcare.
For some, this choice is because humanities majors typically have a lighter course load. In turn, this may allow pre-health students to spend more time studying for entrance examinations and gaining clinical experiences that will increase their chances of admission to healthcare education institutions. This notion is supported by the U.S. Medical School matriculation data for 2019-2020, which revealed that undergraduates students who majored in the humanities had higher mean MCAT scores (512.9 verus 511.3) and were more likely to enroll in medical school (46.48% versus 40.67%) compared to their peers who majored in the biological sciences3.
On the other hand, not all healthcare professionals knew they wanted to be a physician or physician assistant as an undergraduate student. Many medical school and physician assistant school applicants had a successful career doing something else entirely prior to discovering their passion for healthcare.
In an article published by the AAMC, a former pastry chef (now in her second-year of medical school) explained, "Even though she loved making cakes for inns and bakeries … she found herself yearning for something more. Her father is a doctor, and she'd toyed with the idea of medicine in high school but decided the sciences weren't for her. When she started considering the field again, Fjeld enrolled in a biology course at a local college and did well. 'Turns out it wasn't science I hated,' she says. 'It was high school.'"5
Like many non-traditional applicants, this former pastry chef recalled feeling anxious, like she was not as prepared as her recently-graduated peers, during the admissions process. In order to gain more clinical experience and strengthen her overall medical school application, she decided to work as a medical scribe in an emergency room.
Why Do Many Non-Traditional Applicants Choose Scribing?
Clinical experience is crucial for admission to healthcare education institutions. For non-traditional applicants who may have never been exposed to healthcare before, obtaining this background is especially important. One of the most unique and beneficial types of clinical experience is medical scribing.
Medical scribes are paraprofessionals who provide direct assistance to physicians and health administrators by using real time Electronic Health Records (EHR) to document patient interactions, track test results and record consultations. They maximize the healthcare provider workflow efficiency, thereby helping to improve the satisfaction of patient care within the medical industry. Scribes have the opportunity to learn in a variety of healthcare settings such as private offices, urgent care clinics and trauma centers.
Medical scribes are one of the best options for non-traditional applicants. By working alongside healthcare professionals, medical scribes get the unique opportunity to understand what exactly being a care provider entails. Part-taking in a healthcare professional's day-to-day interactions allows non-traditional applicants to speak more effectively about why they want to become a physician or physician assistant, and prove to admissions committees that this is the best field for them.
On an intrapersonal level, the ability to communicate with patients and observe medical procedures also gives non-traditional applicants (who may have had a prior career) the chance to affirm that healthcare is their true calling. Medical scribes have the opportunity to speak with and form meaningful connections with a variety of healthcare professionals. This not only provides applicants with a support network of individuals from whom they can ask relevant advice from, but also a qualified group of potential writers for letters of recommendation.
For non-traditional applicants who are years removed from the classroom and may no longer have close relations with their undergraduate faculty, this is key. Letters of recommendation play a crucial role in the admission committee's assessment of an application; many healthcare education institutions recommend that applicants choose someone who knows them personally and professionally, and can attest to their ability to succeed in healthcare. The healthcare professionals that medical scribes work closely with may be able to convey the most convincing messages.
For post-baccalaureate students, medical scribing may help to consolidate classroom taught information and improve performance in pre-health studies. One medical student told an AAMC representative his experience as a medical scribe prepared him "… a great deal for both medical school and upper-level undergraduate courses. There is so much that you learn about physiology, anatomy, etc. that can be applied to real life cases. I tend to learn best when I see something in context, so making the connection between the classroom and the emergency room was extremely helpful for me."8
Not only does scribing allow applicants to become intimately familiar with the healthcare system, but it is a paid position. This is extremely important for non-traditional applicants, who are typically older and may have financial responsibilities.
About the Author
Aubrey Martinez is currently a student at the University of Southern California. She is working towards a Bachelor of Science in Neuroscience Degree with a Pre-Medical emphasis. Aubrey has already earned two Associate in Science degrees, one in Biology and the other in Natural Science. In addition to being a full-time student, she works as an Emergency Medical Scribe for Scribe Connect at the Martin Luther King Jr. Community Hospital in Compton, California. The primary objective of this article is to explain some of the pathways Non-Traditional applicants take to ultimately become a healthcare professional.
References