Medical scribe turnover can lead to charting efficiency problems and lack of billing accuracy.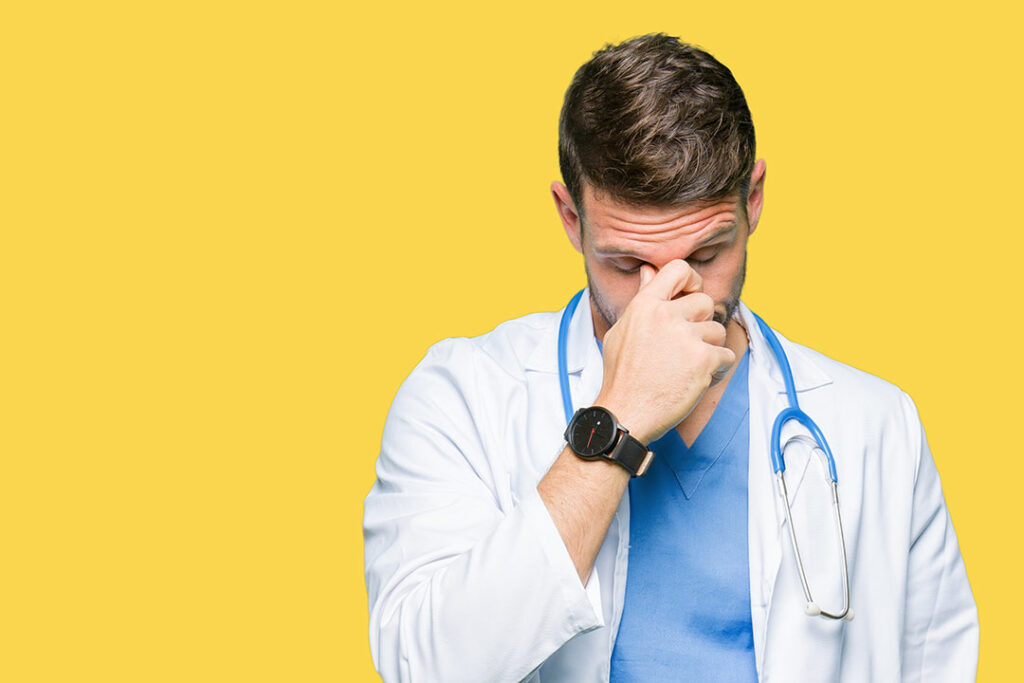 This is a common issue we hear from our clients and customers. To no fault of our wonderful scribes, and certainly not by the partners and providers they work with, the classic model of hiring pre-med or pre-PA students during their transition to post graduate work can lead to high scribe turnover rates and the need for frequent hiring and training of new scribes.
The use of medical scribes to alleviate the burden of EHR documentation from physicians and providers have long proven to be a valuable asset in improving the work-life balance of doctors. Every provider we speak to that uses one of ScribeConnect's medical scribe have universally praised how the program have continued to improve their quality of life.
So no. The traditional medical scribe model isn't broken.
There's no arguing that offloading the burden and responsibility of EHR documentation from a physician's shoulders leads to improved metrics across board, from ROI to patient satisfaction, to generally a better physician outlook and well-being.
Then why are we suggesting the traditional scribe model may lead to charting efficiency and billing accuracy issues?
We've seen this happen all too often. A doctor gets used to working closely with their scribe, but when the scribe leaves to go back to school, a period of transition leads to additional work in getting used to working with the new scribe, and while our numbers show that the difference in charting efficiency and billing accuracy are minimal between a seasoned scribe and a brand new scribe, anecdotally we hear the lack of coverage and the recurring transition during scribe turnover to be a topic worth discussing about.
The real question is, can the medical scribe model be made better?
Some people in the healthcare industry may prefer to think, "if it ain't broken, don't fix it." Here at ScribeConnect we prefer to think "how to make a good process BETTER?" While hiring pre-med and pre-PA candidates remain the most viable and cost effective solution, with rising cost-of-living and an ever shrinking candidate pool, we as medical scribe solution providers and you as a healthcare organization should start thinking of better ways to fill the gap caused by the inevitable medical scribe turnover. Below are some solutions we believe can help alleviate the issues brought about by the inherent gaps in the medical scribe model.
1. Transition to an in-house scribe program
Yes, we did just say the quiet part out loud. As a medical scribe service provider, it isn't always ideal for us for any of our customers and clients transition to an in-house medical scribe program. Despite that, there are advantages that such a program may help with longer scribe retention, as well as lower operating cost. Such advantages are:
Pay your medical scribes a decent living wage. Not having the overhead of paying for a third-party to administer your scribe program may allow you to increase your average scribe hourly pay.
Increased loyalty. You are now responsible for your own scribe program, and as your own employees the medical scribes you hire will have more of a sense of loyalty to you, not to the medical scribing company they're contracted to.
Higher degree of control and flexibility. The ability to reward high performing scribes, whether through promotion, bonuses, or other perks, will give you the flexibility to design a program to help you retain your best scribes longer.
This doesn't always address the fact that a pre-med or pre-PA candidate may still leave your healthcare organization in 6-8 months once they're accepted into their medical school of choice, nor does it help if you're struggling with staffing medical scribes because you're NOT in an area where a wide pool of candidate is available. While an in-hosue program does require more internal resources to execute, it does put the control of the program back in your hands.
2. Hire allied health professionals and offer scribing as a career path entry
We at ScribeConnect in essence, functions as a human resources arm for most of our healthcare organization partners. As such, we have our fingers on the pulse of not only the healthcare industry, but the hiring and human resources industry in general. We have seen quite a few candidates that apply to be a scribe that have recently completed an allied health program, but struggle to find immediate employment in health administration or medical assistant because they lack the experience to be considered for by most healthcare organizations for open positions.
While allied health professionals aren't traditionally used as medical scribes, medical scribing can be an excellent gateway into the healthcare industry and a fantastic way to build experience for those entering the workforce for the first time.
In addition, a career pathway into their profession of choice can be an incentive for a longer stint as a medical scribe compared to pre-med and pre-PA candidates, where a 1-2 year medical scribing stint can be a fantastic way to transition into a full-time MA, tech, or healthcare administrator position of choice, thus decreasing scribe turnover.
3. Train up your own internal resources to complement and supplement a third-party provider
Despite the title of this blog entry, there's really nothing inherently wrong with the traditional, third-party scribe model. It still provides EHR documentation help where help is needed, while giving pre-med and pre-PA candidates an excellent opportunity to gain clinical experience for their future career as a provider. We at ScribeConnect still firmly believe that an in-person, human scribe assisting a physician in the documentation process not only help improve charting efficiency and accuracy, but ultimately improve ROI and margin for whatever healthcare organization that deploy them.
But there will be gaps to fill, whether you're a hospital system in the heart of an urban area next to a large, reputable medical school, or you're trying to staff a team of scribes in a rural area urgent care center for your contracted physician.
The suggestion here isn't to take your best MAs or tech and turn them into medical scribes. Far from it. They should continue to do what they do best. The idea here is no doctor should spend another minute documenting in an EHR. Ever. If you have a team of internal resources trained up on the basics of EHR documentation, then in the inevitable cases where a medical scribe transitions occurs without coverage, you would have a team ready and available to span the gap during the medical scribe turnover.
Time to take control of your medical scribe program
Our medical scribes don't work for us. They work for you.
Ultimately, you have to decide how best to structure your medical scribe program to suit the needs of your providers. And maybe your physicians are happy with the services the medical scribes currently provide. We certainly have a lot of partners who sing the praises of the high quality medical scribes we offer.
What we would suggest, is to survey your physicians if you currently have a medical scribe program in place, and keep a finger on the pulse of the program and a close eye on the future. A combination of all three solutions we outlined above can result in a sustained, high performing scribe program that continue to keep your doctors happy, and drive a thriving medical scribe program that continue to drive up ROI and increase margin for your healthcare organization.
For example, you can continue to deploy a third-party solution like ours, but supplement with an on-site scribe manager or trainer as your own employee. Our contracted medical scribes report to your scribe manager, who monitors the hiring, training, and on-going evaluation of scribes and work closely with us to ensure high charting accuracy and efficiency. Your scribe manager may even hire several in-house scribes to lower the impact of scribe turnover. These candidates can be allied health professionals fresh out of school and be offered a career path that starts out as medical scribes.
You may even choose to train up a few MAs and techs to have basic medical scribing skills by using our SaaS Scribe Management and Training Platform, and assign them to assist on the occasional need to cover a transitioning scribe. And eventually some of your techs and MAs may have started out at your healthcare organization as medical scribes can also step in to help the inevitable scribe turnover transition.
These are just some ideas and scenarios we've deployed at a few of our busiest and highest volume partners. We've worked closely with our partners to help with each and every medical scribe scenario for the last decade, and we hope some of our solutions can help you bridge the gap so none of your doctors will ever spend another minute documenting in an EHR. Again.