Unlike most entry-level positions, medical scribes do need training
While most entry-level type positions in a variety of industries, like service, fast-food, or warehouse/fulfillment typically do not require extensive and specific training, medical scribing is not one of those. Even though an advanced degree is not required specifically for medical scribing, as an entry position in the healthcare and medical field, there are specific subsets of skills and training required for medical scribes that a cashier or customer service rep position do not require.
Industry-specific training
The healthcare industry and the practice of medicine, in general, is one of the most regulated industries in the United States. With Medicare being one of the largest payers and players, and strict privacy laws and regulations regarding a patient's personal information and care, any position in the healthcare industry require training on the basics of HIPAA (Health Insurance Portability and Accountability Act of 1996) regulations, especially where it comes to handling patient health information, diagnosis, and personal information via an Electronic Health Record system.
Speaking of Electronic Health Records
In 2009, Congress passed the American Recovery and Reinvestment Act (ARRA) as a response to the recession started in 2008. Contained within the ARRA is the Health Information Technology for Economic and Clinical Health Act (HITECH), which contains a provision to incentivize the use of Electronic Health Records, or EHR. As part of the program the use of EHR proliferated throughout healthcare organizations. Today, the vast majority (over 85%) of healthcare organizations use EHR as part of their patient record keeping system.
But since there are no standardized EHR implementation as part of the incentive and mandate, there are literally over 500 different vendors and providers of EHRs on the market today. As a medical scribe, a large part of the required training is to get familiarized on the specific EHR of the healthcare organization that deploys any scribes to help with provider documentation assistance.
There are also required training for specific skillsets as a medical scribe
Clinical documentation is the bulk of a medical scribe's daily job responsibility. And as part of that documentation process, understanding of medical terms, clinical diagnosis, and laboratory procedures are a vital part of required training. In addition, accuracy, speed of data entry, and rapport with the physician are key to a successful scribe.
Once a scribe understands the general, legal, and regulatory necessities in the role, they need to be trained up for the medical aspect of the role. Basic understanding of:
Diagnostic terms
Medication names
Laboratory procedures
Medical procedures
General terminology and pathology
These are all required training for general scribing responsibilities. In addition, specialties like cardiology, urology, OB/GYN can all require their own specific training in addition to the general scribe training required.
Can these mandatory skills be acquired before starting as a scribe?
Certainly. Most basic training, such as legal and regulatory compliance can be done online. We also offer an online Comprehensive Scribe Training and Certification Course that helps a candidate train and learn most of the vital clinical, business, and legal aspect of the medical scribe role as a fundamental part of our medical scribe training program. When a healthcare organization hires a medical scribe with past scribing experience, they will likely have fulfill all the basic requirements needed to be proficient at scribing.
Most of the scribing skillset can also be obtained via experience working in a clinical setting, although just because one has worked as a MA, CNA, or PA doesn't automatically qualify one to work as a documentation assistant or medical scribe.
Our recommendation for any healthcare organizations looking to transition some of their internal staff to assume a documentation assistant role, or hiring pre-med students locally to fill that responsibility, is to still have them go through some core skill training, and most importantly, spend some time shadowing a physician or provider as they transition their role.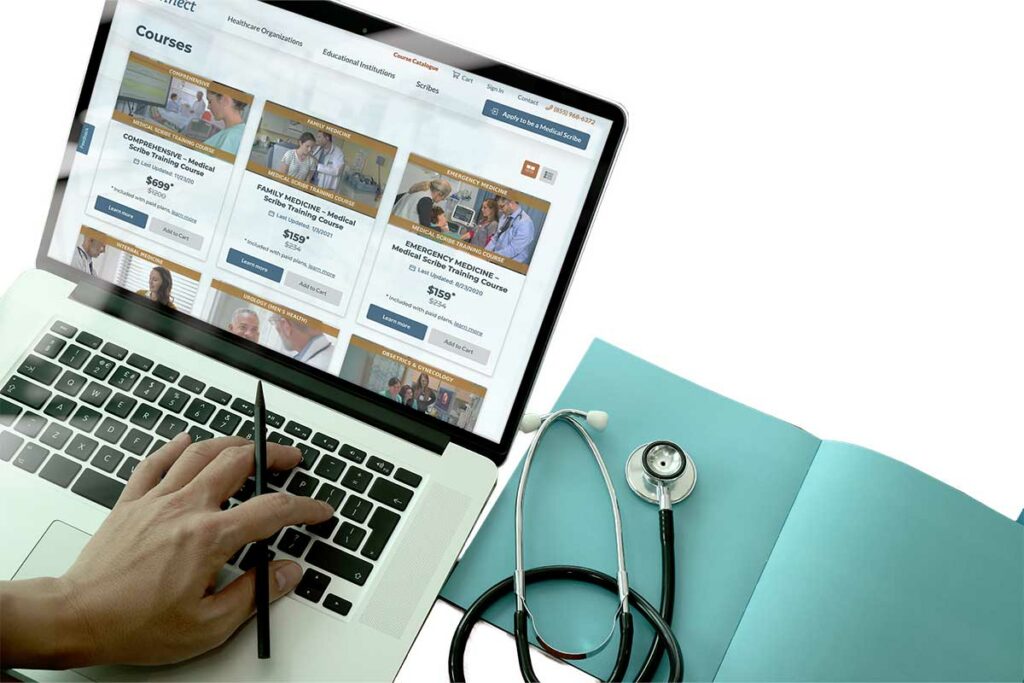 In-person shadowing after initial scribe training is key
No amount of online training will replace in-person shifts following a doctor. This portion of the training for a medical scribe is key, as good habits and personal rapport is best developed during in-person training. If you're starting your own medical scribe program within your healthcare organization, this may be a difficult proposition. Here are some recommendations we have.
Transition existing staff: If you have MAs, CNAs, PAs and medical techs that are eager to take on responsibility and earn the experience required to further their careers, offer them medical scribe training to get them up to speed. These positions are already familiar with clinical operations and most likely trained up on regulations and legal requirements to operate within the healthcare space.
Hire candidates with prior medical scribe experience: While turn-over rate for medical scribes are high, because they typically leave in 6-12 months to return to medical school, there are candidates available that has gone through training and have had some experience that can seed your medical scribe program.
Partner with a Full-Service Provider: If you're already short-staffed, and have no candidates within to transition to a documentation assistant/scribing role to help ease the load from your physicians, work with a Full-Service Medical Scribe provider to get your program started.
ScribeConnect is here to help
ScribeConnect offers a variety of solutions, ranging from a la carte online Comprehensive Scribe Training Courses, to a powerful online SaaS platform to help you hire, train, and retain your own in-house medical scribe programs, to a full-service, turn-key medical scribe solution to help you with immediate documentation needs.
Contact us, or book a meeting with us directly to discuss how we can help!